Welcome to our Custom Commissions Shoppe!
Thank you for visiting! Here you will find many unique items which you can commission to add to your own collections or as wonderful gifts for your loved ones and friends!
SetsunaKou's Custom Commissions Shoppe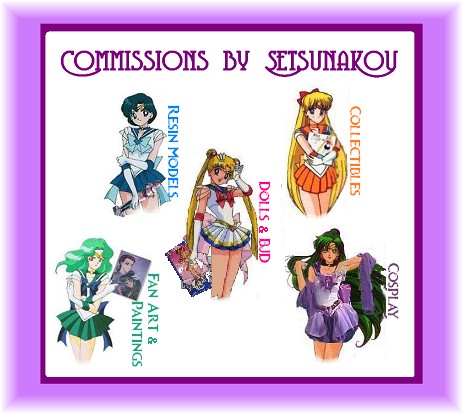 HarukaKou's Custom
Commissions Shoppe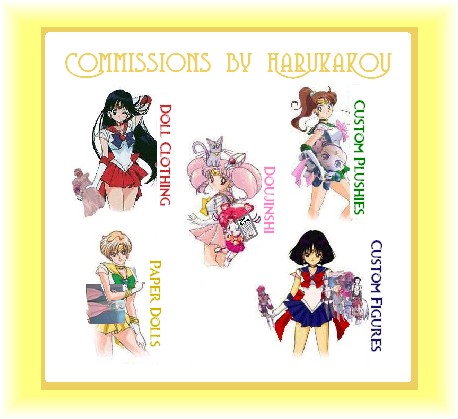 ~~~~~~~~~~~~~~~~~~~~~~~~~~~~~~~
We started out making these things for our own personal collections, and when they turned out so well, we decided to offer them to other fans out there who may also like to have such rare, previously unavailable items too!
Please look around!! There's more than just Sailor Moon here!!!
Just click on a shoppe in the links above or in the top menu bar to visit your shopping area of interest!
We hope you enjoy your visit, and we thank you again for coming!
~~~~~~~~~~~~~~~~~~~~~~~~~~~~
Updated : July 27, 2019
*****We reserve the right to refuse any order.*****
Thank you all for your support and please enjoy your visit! Title page banner designed and created by Lizzard. Text only mirror site created by Faith. Thank you for your time and effort in helping to make this website better.
All rights of Sailor Moon and her Sailor Scouts belong to Naoko Takeuchi, Toei Animation, Kodanshya, DIC, and various others. Thank you.